Visit our Rootsweb History Site
Some families know a great deal about their roots; others know very little. This site is an attempt to record what I've learned about our family history. In these modern times, families tend to be scattered all over the country, if not the world. One of the goals of this web site is to help our family stay connected even though we live far apart.
Marge Miller (1934-2004)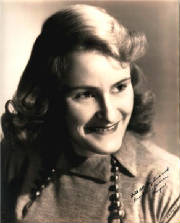 My mother Margaret Jane Fuecker Miller
I'm Sondra Prowett, formerly Sondra Miller. I got interested in researching this when my mother passed away in 2004.
It made me realize that all of the members of her generation, including my father, were gone. All of that family history was fast disappearing.
This was always something mom was going to do, put together our family information. So future generations would know where we came from. She never got the chance to do it. This is my memorial to her.
While doing this, I've discovered that I have many more relatives than I ever thought possible! And that we have been in the US much longer than I ever imagined!

This is a work in progress, so please contact me if you have any information that might help round out the picture. Use the contact me tab on the left.

I'm verifying Census information from the US and the few British censuses I can get ahold of, checking death indexes and looking at the

USGenWebArchives

for additional information in the appropriate counties...it all takes time.

CONTACT ME PLEASE!

Fill me in on what you know about the family! What stories did your parents tell?

If you'd like email updates as I find information about the Fuecker, Wards or Millers, send me an email or drop me a line in the guestbook.

My Family in 1996


The Prowetts

| | |
| --- | --- |
| | Miller & Fuecker families: My main family lines from my parents encompass Fuecker, Fadden/McFadden, Ward, Bacon, Mayo, Colby, Leonard, Miller, Fulkerson, & Carpenter to name a few! |

The Miller family information has been greatly boosted by a Messinger Family Researcher, my cousin, Jeanna Arroyo.

The Ward family information has been helped along by my cousin Lorna Hink, the last of my mom's generation that we are in contact with. I appreciate your help and your patience Lorna, Thank you.

The Fuecker family is heavily researched by Orabell "Ozzie" Thompson. She's been doing it for 50 years! She's helped many of us out with information, but been very little credited. Thanks Ozzie!

Martha Nelson is also a great help on the Kost/Aschenbrenner lines and filling in on the Fuecker ones while Ozzie's so busy. Thanks Marth!

Marg Olson, Robert Wylie, Susan Duoblys, and Bob Fulkerson are also researching branches of the family. They all have sites on-line you can visit and their sites and others I have gotten information, or double checked information on, are listed on the related genealogical sites page of our family history site.

Please get in touch and let me know what you think of my site.